Ignite your fitness flame.
Begin your fitness journey and change your life forever.
DOWNLOAD TODAY
APP FEATURES
The Burn App by Cara Loren features three main pillars to help you reach your fitness goals.
ADAPTABILITY
Work out whenever, wherever and however you'd like. The Burn App works for you — taking your feedback and applying it to future workouts to make sure you're getting the most out of your fitness journey.
ACCOUNTABILITY
Think of Burn as your workout buddy, except we're not gonna give in to skipping a day for Bachelor Mondays (as much as it pains us to say). We'll keep track of when and how you like to workout, sending you reminders along the way to ensure your consistency.
COMMUNITY
Let's face it: beginning a fitness journey is hard. But friends can make it a little easier! We're curating an app-exclusive community of fitness newbies and fitness enthusiasts alike for you to get the most out of your Burn journey.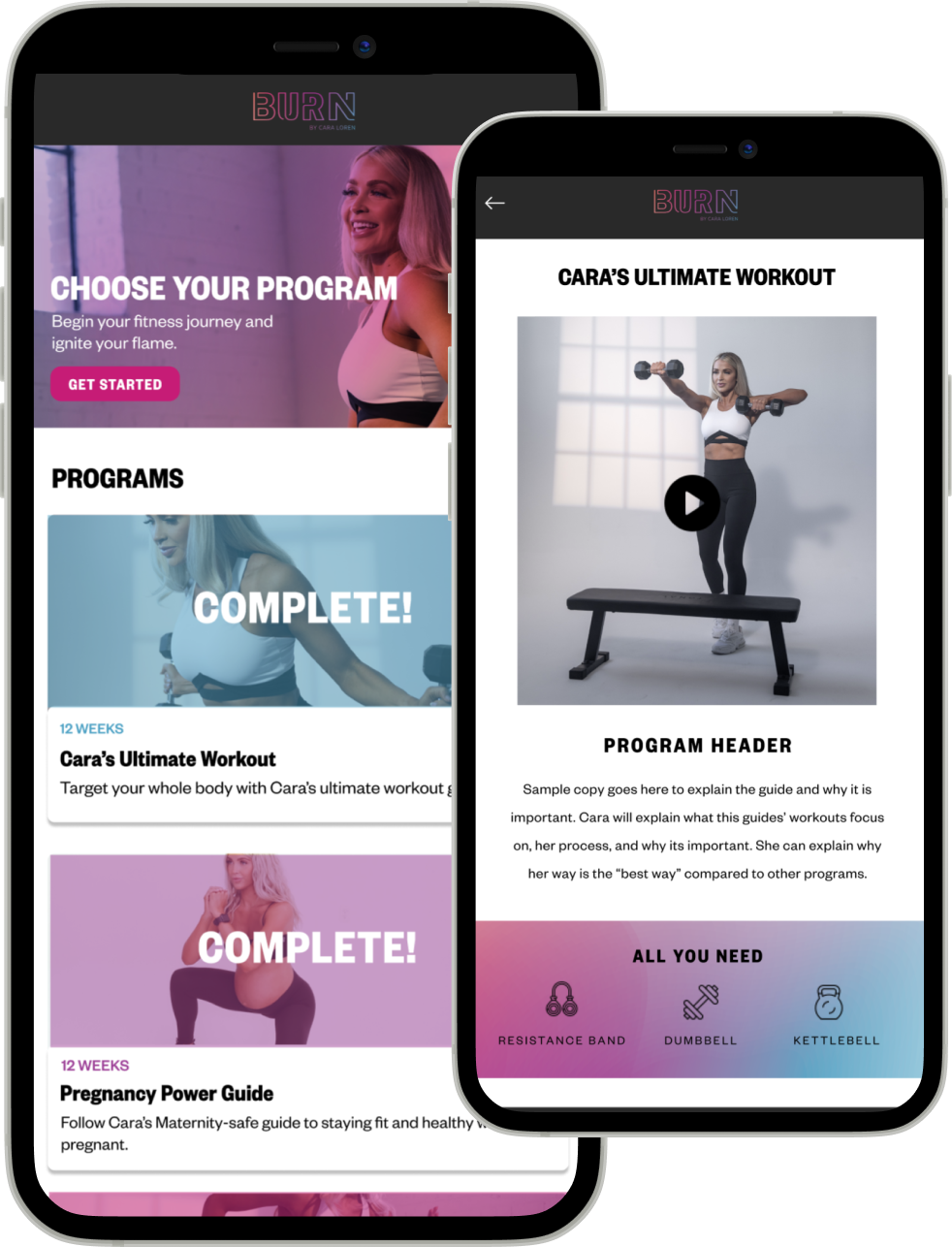 What to Expect
SELECT YOUR PROGRAM
Choose your fitness focus! Interested in sculpting that booty? Wanna tone your arms? We've got a program for that. Each program contains a specialized set of unique exercises designed to help you achieve your goals.
CHOOSE YOUR DAILY WORKOUT
Pick from a list of workout routines based on your mood, setting, and ability level. Each workout routine targets the fitness goals you selected from your program!
WE LEARN + YOU GROW
Repeat step 2 daily for 12 weeks, letting us know how and what you liked about each workout afterwards. We'll work on making sure each workout gets better and better for you as you continue to build your best fitness regimen and grow into the best version of yourself.
HAVE WE SPARKED YOUR INTEREST?
Sign up for Cara's
exclusive insight
on how to maximize your 12 week programs to experience the best results possible from the Burn App.
Frequently Asked Questions
What equipment will I need?
One of the three main pillars to the Burn App is adaptability. We want you to be able to work out anywhere at any time so we're keeping the equipment requirements low! Some workouts won't require any equipment, however the majority will only require dumbbells, a mat, a resistance band, and a bench.
Don't sweat it during the set-up process – save that for the workout! All you have to do to get started is head to the app store, download the Burn App, and set up your profile. We'll ask you a few short questions about yourself, your fitness goals and your exercise preferences.
How long are the programs?
Program length varies, but overall it is up to you! Most daily workouts within your chosen program will take around 35-45 minutes depending on how quickly you like to move through exercises. In addition to the workout programs, the Burn App offers quick workouts that can be completed in 15-20 minutes.
I am pregnant, can I use this app?
Providing safe, thorough workouts for people who are pregnant is something that the Burn App founder Cara Loren holds very close to her heart. Since every body is unique, we recommend checking in with your doctor to ensure fitness can be a part of your pregnancy journey. Once you have approval, the Burn App has an entire workout program dedicated to pregnancy-specific exercises that will keep you feeling fit and healthy throughout your time carrying a child